Decorating your home can be a challenging job. Especially when it comes to the living room since it is the center of every home. People generally want the center of their home to be something that actually represents them and their interests. On the other hand, they want it to be comfortable and spacious enough to fit the whole family and guests when they come to visit.
Pinterest is a great place where you can find interesting ideas.
But how do you start from just an idea? How about instead you take inspiration from the trip you have been on? Would that be okay with you?
Well, then we have good news for you. You have selected the right text to read if you want your decoration to be inspired by travel and your passion to travel.
So let's start!
1. Maps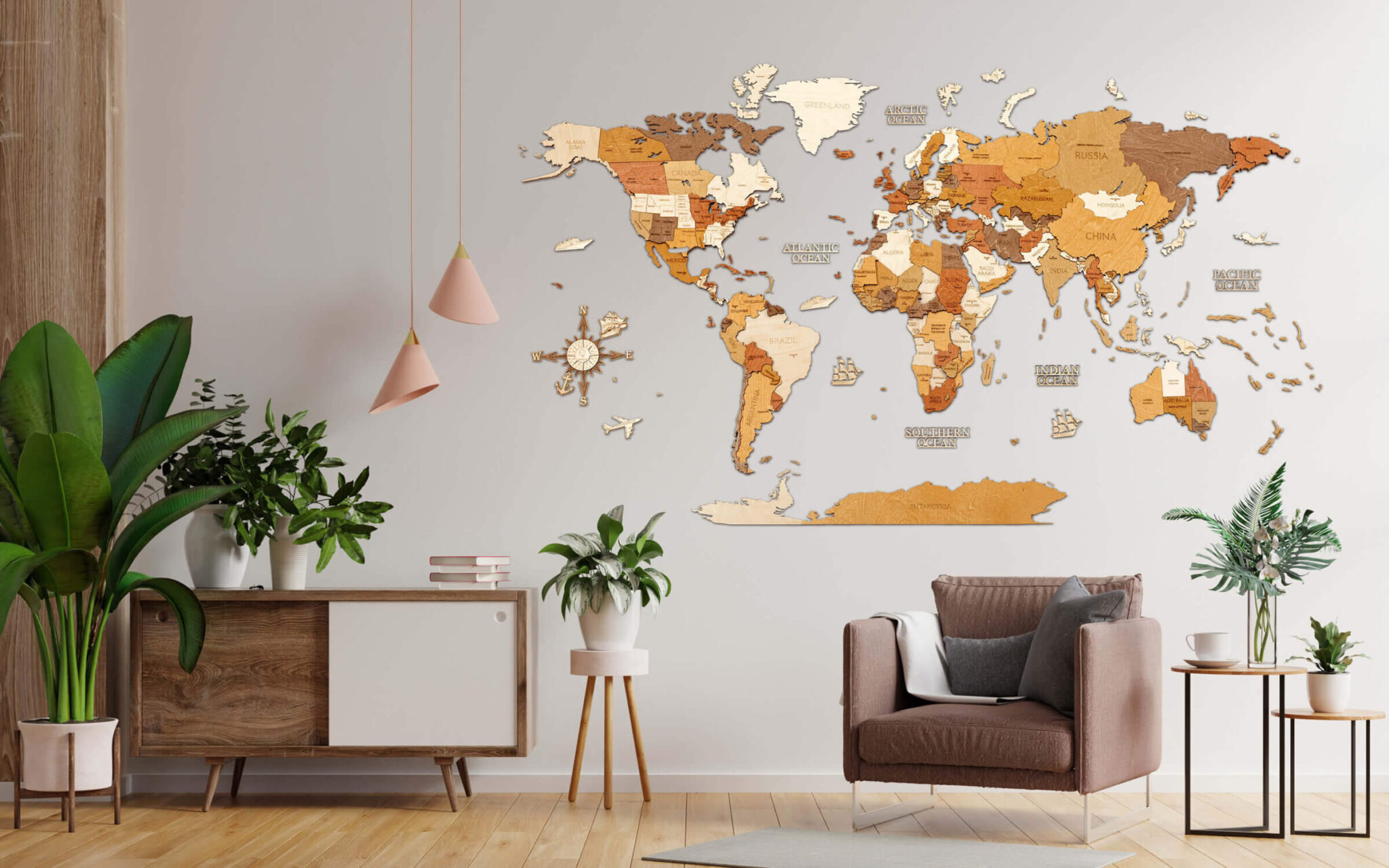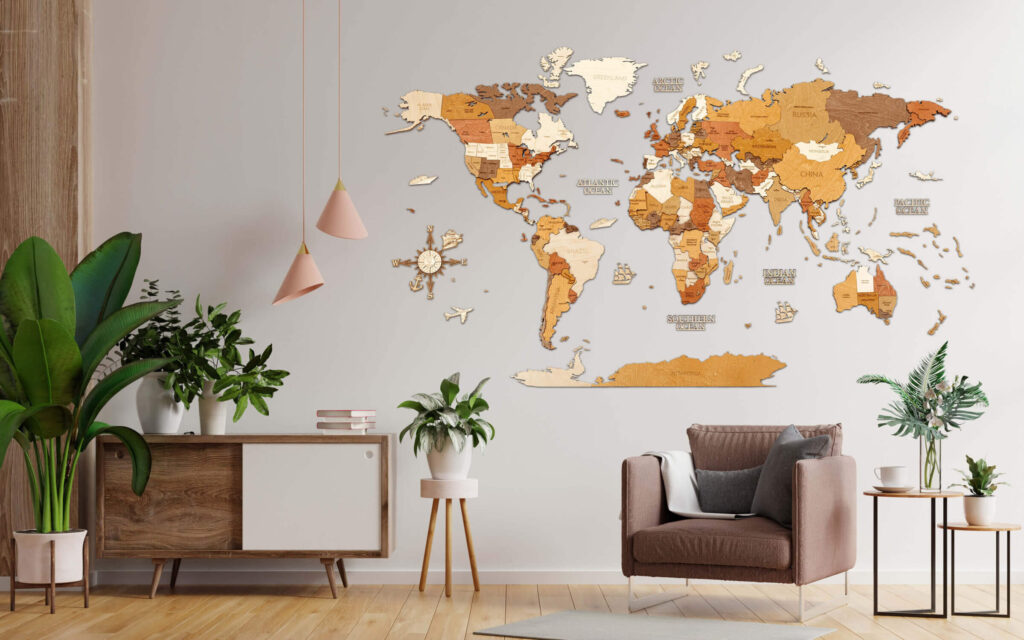 First things first, you need to cover your walls with maps. Large, small, colorful or black and white ones, it all depends on your taste. You can even create a map yourself if you're feeling creative enough. This way you'll be able to travel every day without even leaving your living room!
Another good idea is to mark on the map where you have traveled. You can use lamps or colorful pins to accentuate the whole thing. So, your map will look more beautiful and will be personalized.
If you want to be more creative and you don't want to be cheesy you can draw or print a map on canvas.
2. Museum of Memories
If you're the sentimental type who loves to keep memories from your travels, then this is the perfect decoration for you. Pick out some of your favorite photos and souvenirs and create a museum-like display in your living room. It will be like reliving all your best memories every time you walk into the room!
This wall can be a focal piece in your living room. You can make a mini gallery that will be fun for the guests to study. And is there any prettier thing from the wall that is full of memories?
3. 3D Wallpapers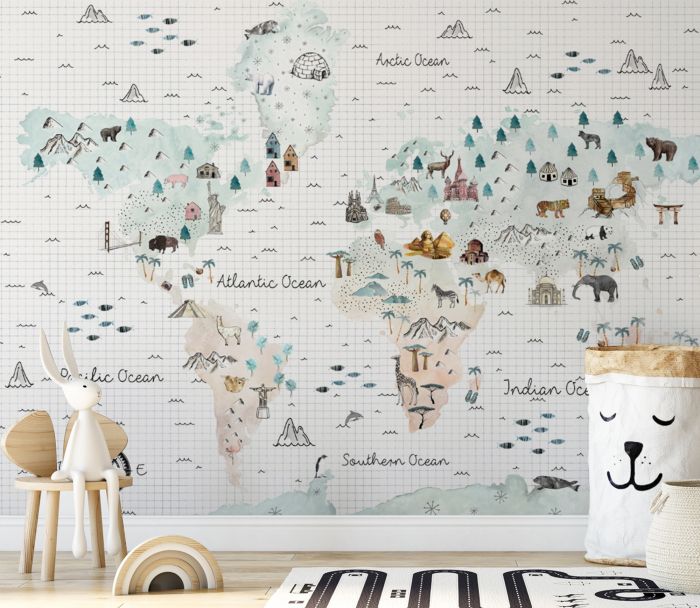 If you really want to give your living room a travel-themed makeover, then go for 3D wallpapers. There are plenty of amazing designs to choose from, and they'll make your room look like it's straight out of a postcard!
The main advantage of 3D world map wallpaper is that you can easily find it on wallmur.com. Or, if you're feeling brave – create your own. So, if you have a picture of the Golden Gate in San Francisco or the Eiffel Tower in Paris, it can be used as a decoration for your wall.
4. Accessories
No travel-themed living room is complete without some cool accessories. Typography prints, old coins, globes, and compasses are all great options. Just pick out the ones that you think will fit in best with your overall design.
Collecting coins from countries you visited is the best way to remind yourself of memories. You can frame foreign coins and put them on the wall. So, in a creative way, you will save your memories.
5. Suitcases as a Table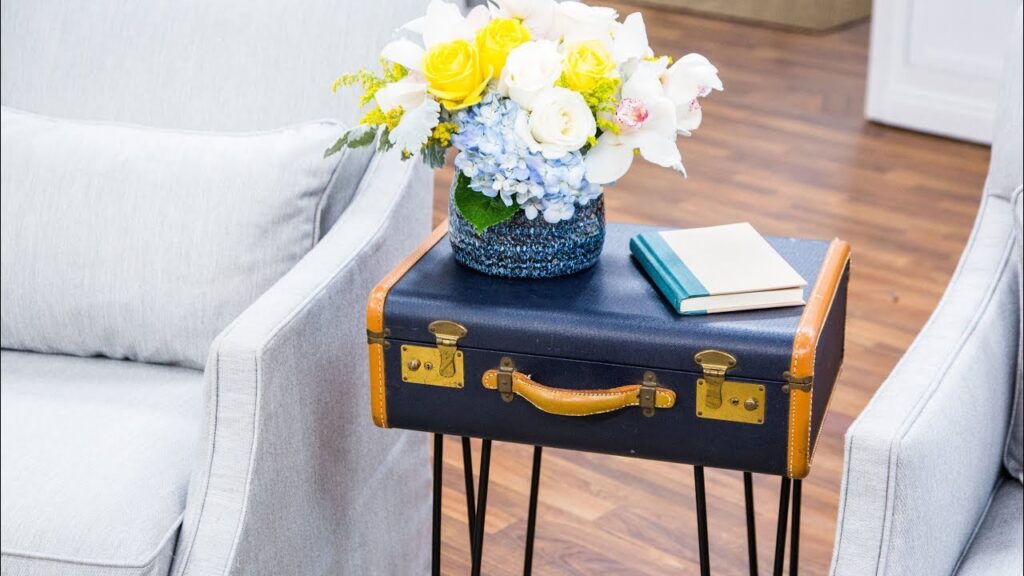 This is a really creative way to use old suitcases that you don't need anymore. Just stack them up and use them as a coffee table or end table. You can even decorate them with travel-themed knick-knacks to make them look even more unique. There are also vintage suitcases, which will add a special charm to your interior.
6. Globes
Globes are a must-have in any travel-themed room. They not only look great as decoration, but they're also really practical. You can use them to plan out your next trip or just daydream about all the places you want to visit one day.
If you didn't know, there are also globes that can hold alcoholic beverages. So the next time guests come to visit you, although the globe will serve as interesting decorations, you can take out someone's favorite whiskey from it with just one move.
7. World Cities Time Zone Clock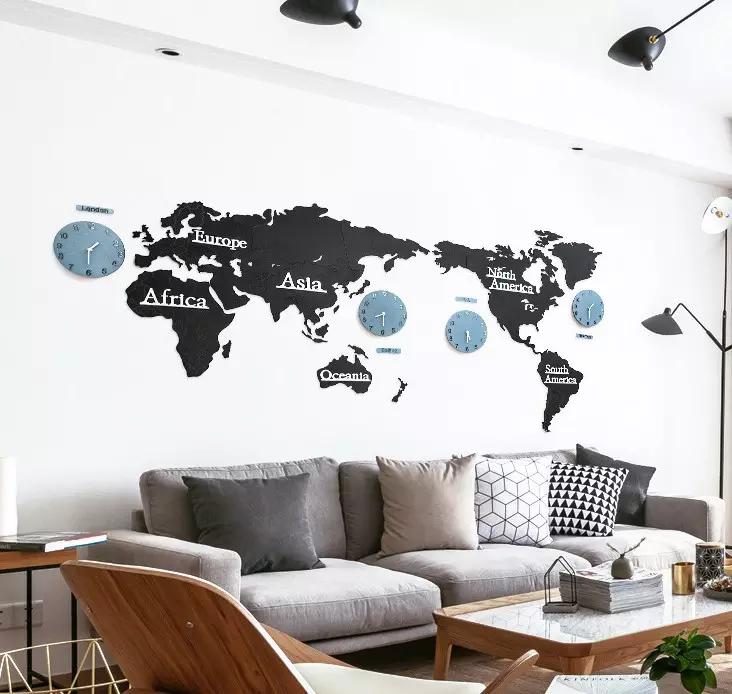 This clock is both stylish and practical. It's perfect for anyone who loves to travel or has family and friends living in different time zones. With this clock, you'll always know what time it is no matter where you are in the world!
8. Decorate With Travel-Inspired Rugs
Rugs are a great way to add a touch of elegance to any room. And there are plenty of travel-themed rugs to choose from. Whether you want a rug with a map design or one that's decorated with world flags, you're sure to find something that you love.
We must not forget the wonderful carpets from Morocco and Turkey. With beautiful designs and patterns, this piece of furniture will complete your room.
9. Compass-Style Clock
This clock is perfect for anyone who loves the outdoors and enjoys camping, hiking, and other outdoor activities. It has a compass design and can be hung on the wall or placed on a table. Either way, it's sure to add a touch of adventure to your living room. Since vintage is in trend now, you can also get a vintage compass.
10. Travel Souvenir Shadow Box
If you've been lucky enough to go on some amazing trips, then this is the perfect way to display your souvenirs. Just put them all in a shadow box and hang it up on the wall. It's a great way to share your memories with family and friends.
You can always collect all the tickets from visits to museums, monuments and so on. Instead of decorating the wall, you can also put them in a photo album. So, the next time you have guests over, you can flip through the scrapbook together and maybe tell an interesting story from your trip. And we know how much everyone loves travel stories.
Conclusion
Memories are made on trips. And memories are always a great decoration for your home. They add some warmth and with these tips, they can look chic. As you can see, there are plenty of ways to add a travel-themed touch to your living room. Just pick out the ideas that you like the best and start decorating!